Finding the perfect jeans is always a challenge. In fact, it seems like I have spent the better part of two decades on a seemingly perpetual quest to find the perfect jeans. Post-baby, this task became infinitely more challenging. Suddenly, I was not only trying to accentuate the positive – I was now fixated on finding stylish, comfortable jeans that could also conceal (and possibly improve?) the negative.
Having recovered from my c-section, I was now sporting a pretty wicked mommy pooch/c-section shelf combo. Fighting to lose the last 10 pounds of the 95 I had gained, for some unknown reason, my new mom bod had a strange new problem with jeans – no matter how many pairs of jeans I bought, I COULD NOT FIND A PAIR THAT WOULD STAY UP!
I spent the better part of a year and an absolutely unGodly amount of money searching for the perfect jeans for hot old moms…and I have found them!
These amazing jeans do it all – accentuate, conceal, and (in my opinion) improve. And best of all? They cost only a fraction of what I might normally pay for jeans!
Let's start with the obvious – these are pull on jeans. To be honest, I had never considered such a thing before becoming a mom. Fast forward to today and I'm pretty sure anyone who buttons their jeans is an absolute amateur. Not only are these jeans incredibly comfortable (a definite plus when you have little ones), but the lack of a button truly gives a much smoother silhouette.
Do you hate how your stretch jeans only fit for the first hour of the day and then you spend the rest of the day secretly yanking them up when no one is looking? No worries about that here! These jeans do an amazing job of providing a nice amount of firm stretch, while also maintaining their shape from sunrise to sunset.
In addition to being inexpensive, comfortable, and flattering, these unicorn jeans also have a secret hidden tummy slimming panel that boasts some serious compression power. This not only gives the illusion of a much flatter tummy, but I am a firm believer that consistent compression from clothing like this actually helps to flatten and shape our problem areas.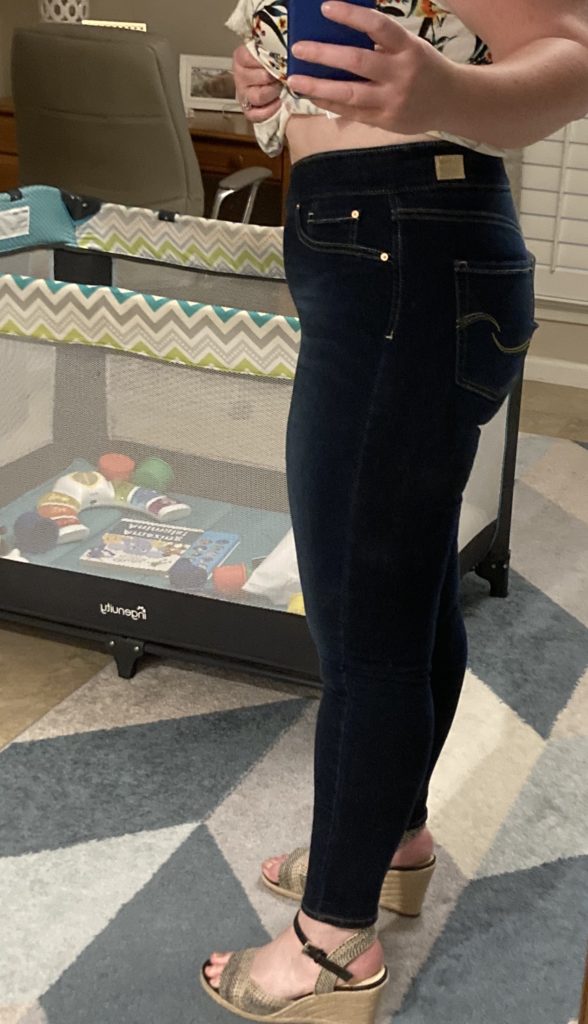 Size 8, 29 inch length, Immaculate Wash
Secret Tummy Slimming Power Panel
Reasons to Love:
The price is about 1/3 of what I normally spend on jeans – they are a steal.
No more yanking up your pants midday…these babies stay up!
The secret tummy slimming power panel is LEGIT. Goodbye, Mommy Tummy!
These jeans can be cuffed (no weird material – the inside looks like regular denim).
The thick, sturdy waistband has zero gap, stays put, and there isn't even a hint of a muffin top.
Your butt will look so good, people will want to write songs about it.
Good to Know:
I typically wear a size 8 and ordered a size 8 (despite some online reviews that suggested sizing down – that would NOT have been a good idea because these are SNUG). The size chart also suggested an 8, so I recommend following it instead of the reviews.
There are no belt loops. I don't actually want to wear a belt, but it does make it slightly more difficult to pull them on.
These jeans do not have real front pockets. The back pockets work, though.
Although these jeans are advertised as mid-rise, I actually found them to be somewhere between mid-rise and high-rise. I personally wish the rise was about an inch or two higher.
The secret tummy slimming panel might take some getting used to – it is serious business.
There is a limited range of washes and, currently, there is not a "distressed" option. A girl can dream, though…
The standard inseam is 29 inches…which worked great for me, but I'm 5'3. They're a little too short to cuff, so if that's your style, you might opt for the 31 inch inseam.
Bottom Line:
Do yourself a favor, Momma, and click "Add to Cart". You won't regret it. Just be careful prancing around the house because you'll be irresistible!
Update:
This review applies to the Immaculate wash. I purchased the Sun Worshipper rinse and the experience wasn't quite as awesome.
Click to Purchase Signature by Levi Strauss & Co. Gold Label
Women's Totally Shaping Pull-on Skinny Jeans
This is a personal website. This content is not intended to be a substitute for professional medical advice, diagnosis, or treatment. Always seek the advice of your physician or other qualified health provider with any questions you may have regarding a medical condition or treatment. The opinions expressed here represent my own and not those of my employer. All products or services reviewed are those that I use myself and I only recommend products that I stand behind. As an Amazon Associate, I earn from qualifying purchases. All written content and personal images are for use on this site only; unauthorized use is prohibited.