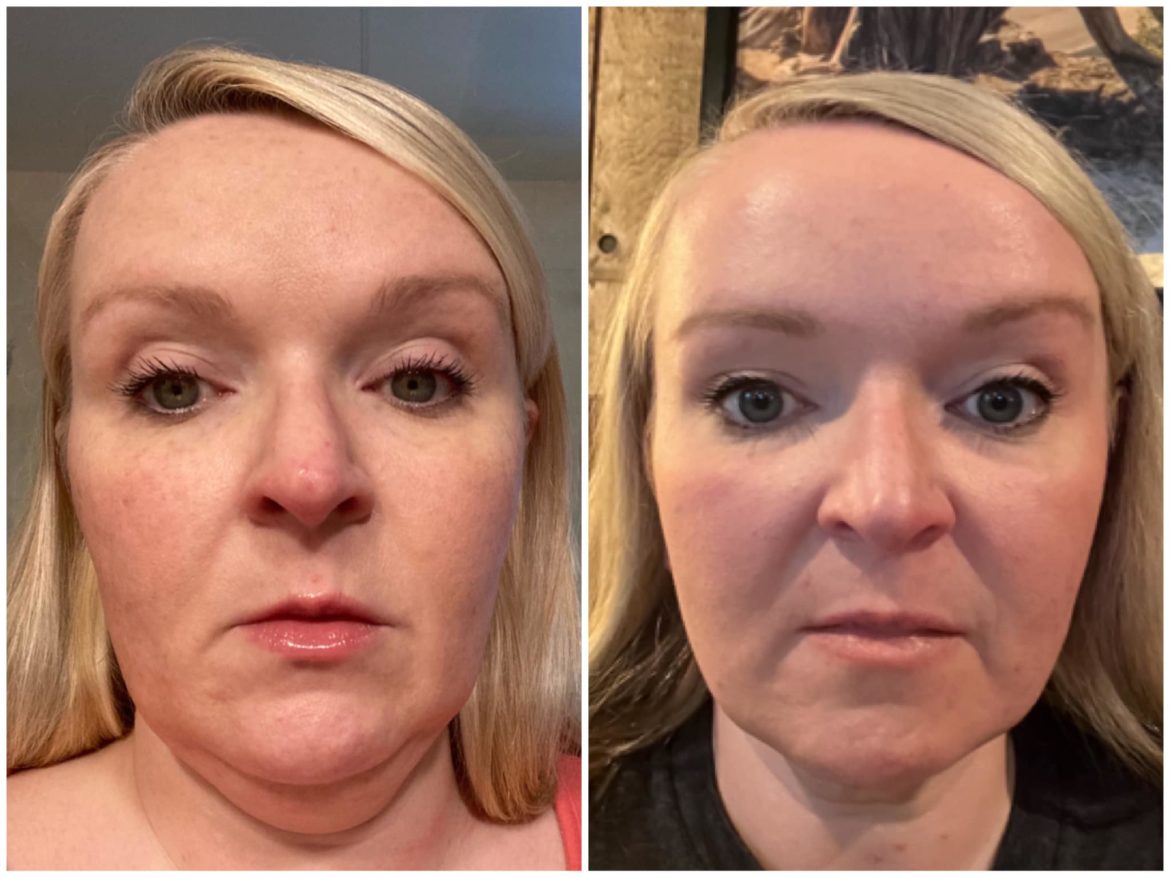 Let's be real. My self esteem took a major hit after I had my son last year…I'm not sure if it was postpartum-related or the result of 41 trips around the sun, but my new jowls and double chin instantly made me look much older than I wanted.
Two months after my son was born, I scheduled a visit at a local medical spa for my birthday. During that appointment, I inquired about Kybella.  I was not super pleased when they said my skin was too "lax" to be a candidate…and that I'd need a facelift, instead. (The nerve!)
Eight months after my son was born, enticed by the results I saw online, I scheduled a Sofwave ultrasound treatment with the hope of tightening my jawline.  I have to be honest…Sofwave hurts like hell. It felt like tiny little waffle irons being held to my face.  But, pain is beauty, right?  Anyway, maximum results are achieved after 12 weeks. At my 3 month followup appointment, I was pretty discouraged because the results were practically nonexistent and I had spent a pretty big chunk of change. Sensing my disappointment, there were again discussions of surgical options, as well as discussions of injectable fillers to "lift" my face. I was starting to think that my turkey neck and jowls were here to stay.
Not one to back down from a fight (but not ready to go under the knife or pump my face full of fillers), I decided I would wage an all out WAR on my sagging face with every nonsurgical weapon I could find.
The good news is that my skin is definitely tighter (sans facelift).
The bad news? My skin tightening is the result of a multi-month regimen and I honestly can't point you to one single product or device to which I credit my results. That said, I'm very pleased to share what has worked for me in the hopes that maybe it can help you turn back the clock a bit, too.
So, before you break the bank with cosmetic surgery or other costly, invasive methods, try these products and devices for at-home skin tightening.
Skin Tightening Products
Neutrogena Hydro Boost Water Gel
There's a reason this is the number one facial moisturizer in the United States. It contains hyaluronic acid, which is a key molecule in skin aging. It's light, refreshing, and is also a great conductive gel for facial devices.
Biossance 100% Squalane Oil
I'm a HUGE Biossance product fan and this one has a nice price tag, so I use it a lot. I apply this oil each morning before I use my NuDerma wand. It's a weightless oil, very hydrating, and helps my makeup go on more evenly…oddly, my very oily skin is actually less oily now. 
Biossance Squalane + Vitamin C Rose Oil
This product won the 2021 Allure Readers' Choice Award "Facial Moisturizer", 2021 Beauty Inc. Award "100 Greatest Products of All Time, and the 2020 Marie Claire Skin Awards, "Best Face Oil". There's a reason it has so many awards…it's amazing! This potent formula brightens, firms, and hydrates…and smells luxurious. I apply this oil on my face and neck each night before bed.  I have the full size product, but there's a trial sized one if you want to give it a whirl. 
Strivectin Tighten & Lift Advanced Neck Cream
It's a little pricey, but there's a reason that Byrdie listed it as the top neck cream of 2023.  Its cult following is likely due to powerhouse ingredients: niacinamide, peptides, ceramides, and hyaluronic acid. My personal experience has been a positive one. I immediately noticed that my skin felt softer and less "crepey". Over time, the skin under my neck is definitely firmer. And the god news is that a little goes a long way, so the expense has been worth the results.
Skin Tightening Devices
NuFace Trinity Plus
The NuFace Trinity Plus is the device to which I credit the majority of my results. I use it every day for 10 minutes. The product I use as a base is Neutrogena's Hydroboost Water Gel. This brand new device has a microcurrent boost that I love, but it's so new that it isn't available on Amazon yet. I started this journey with the older, "legacy" device below, which I also think is incredibly effective.
SolaWave 4-in-1 Facial Wand
I'm a HUGE fan of red light therapy and this device packs a powerful punch for its size. The SolaWave has microcurrent, red light therapy, face massage and therapeutic warmth for smoother, softer, rejuvenated skin. After I use the NuFace Trinity, I use the Solawave on my face and neck for a total of about 5 minutes. 
NuDerma High Frequency Skin Therapy Wand
I have struggled with terrible rosacea since my son was born…this has made a significant difference. I use this device every day for 2 minutes. The product I use as a base is Biossance Squalane Oil, which I apply after I finishing the SolaWave red light wand. After applying the oil, I use the full face attachment on my face and neck, giving an extra "zap" to any active acne. The science behind this device is not super convincing, but my rosacea breakouts have practically stopped. Product claims also include firming wrinkles, minimizing the look of pores, and clearing up cystic acne.
MLAY RF Radio Frequency Facial and Body Skin Tightening Machine
This machine is the runner up for producing results.  I don't have scientific evidence, but I definitely feel like this is effective, particularly on my jowls. I use it once a week for 10 minutes in place of my daily Nuface Trinity treatment. The product I use as a conductive gel is Neutrogena's Hydroboost Water Gel. I use the highest setting, but make sure to keep the circular motion active (otherwise it gets HOT!). This heat is the magic, though…energy waves heat the deep layer of your skin and stimulate the production of collagen. 
Although these products and devices may take more time and patience, the results can still be pretty striking…and for much less pain and money than more intense skin tightening procedures. And while there's definitely a level of commitment needed to achieve results, there are plenty of skin tightening solutions available that don't involve going under the knife.  Hallelujah!
Did

You

Like This Post?
Be sure to connect with Old New Mom on Facebook…you can also join our Old New Moms Facebook Group!  Please note that many of my posts contain revenue generating affiliate links that help support the Old New Mom blog. Thank you for shopping via my links!
This is a personal website. This content is not intended to be a substitute for professional medical advice, diagnosis, or treatment. Always seek the advice of your physician or other qualified health provider with any questions you may have regarding a medical condition or treatment. The opinions expressed here represent my own and not those of my employer. All products or services reviewed are those that I use myself and I only recommend products that I stand behind. As an Amazon Associate, I earn from qualifying purchases. All written content and personal images are for use on this site only; unauthorized use is prohibited.