This is an update to my July 2020 post Goodbye Extensions, Hello Magnetic Lashes!
Since becoming a new mom, I've been sold on the idea of magnetic lashes as an alternative to lash extensions…but I hadn't quite found perfection when it came to a reasonably-priced product. In particular, I struggled to find a magnetic liner that had staying power (especially after a frustrating formula change with the one I liked). Well, over the past few months, I have tried several other brands of magnetic liners and lashes. I am happy to report that I have found a brand that I love!
For the past few weeks, I've been wearing the Luxilia brand magnetic liner and lashes. I still follow the same steps to apply them (except I have only been applying one coat of liner)…and these lashes REALLY stay put all day. Surprisingly enough, they even survived my recent trip to the eye doctor (with all the eye drops, poking around, contact lens changing…the works!).
The Liner:
I don't know what's different about this liner, but it goes on less "wet" and is far less goopy. It also dries much more quickly and with less of a sheen than others. The liner brush is able to draw a very fine point, which allows for extreme precision. And, whereas the other magnetic liners I've tried have been slightly irritating if I got too close to the corner of my eye, this liner has had zero irritation factor. Above all, the best quality of this liner is that YOUR LASHES WILL STAY PUT ALL DAY LONG. No flaking or corner magnets lifting midday. Here's a picture at the end of a 14-hour day: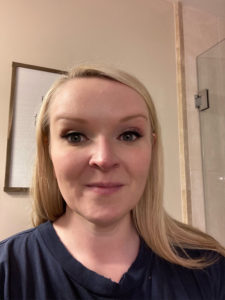 As you might imagine, the trade-off for eyeliner with this kind of staying power is that it takes a bit of work to remove. The good news is that it comes off relatively easily with a cotton swab and some micellar water. Personally, I'm happy to do a little work if it means I get beautiful, worry-free lashes all day long.
Note: If any of the fine folks at Luxilia are reading this, PLEASE don't change the liner. I've tried most of them and you have a winning product.
The Lashes:
To be honest, I actually thought the other lashes I have tried were pretty great…until I tried these. These Luxilia lashes are so light and well made that I truly don't feel them once they are in place. The slightly rigid edge makes them less floppy and easier to place so that you are much better able to get close to the lash line.
It's worth noting that the kit I received had one pair of lashes that was ever-so-slightly mismatched in length (see below). That said, this difference honestly was not visible when I was wearing them.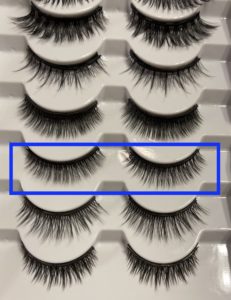 The kit with 7 pairs of lashes is clearly a better deal, but it did include 3 pairs that were a little too burlesque for my taste. That said, the other 4 pairs are lovely, comfortable, and very natural looking.
Bottom Line:
The Luxilia liner and lashes are a solid win. In fact, they are so good that I have actually decided to stop trying new brands…I'm sticking with these.
So, if you are looking for a great alternative to lash extensions (or you just want long, lush lashes that are easy and worry-free) these are a must buy in my book!
Click Here to Purchase Luxillia Magnetic Eyelashes with Eyeliner Kit
Did You Like This Post?
Be sure to connect with Old New Mom on Facebook…you can also join our Old New Moms Facebook Group! Please note that many of my posts contain revenue generating affiliate links that help support the Old New Mom blog. Thank you for shopping via my links!
This is a personal website. This content is not intended to be a substitute for professional medical advice, diagnosis, or treatment. Always seek the advice of your physician or other qualified health provider with any questions you may have regarding a medical condition or treatment. The opinions expressed here represent my own and not those of my employer. All products or services reviewed are those that I use myself and I only recommend products that I stand behind. As an Amazon Associate, I earn from qualifying purchases. All written content and personal images are for use on this site only; unauthorized use is prohibited.