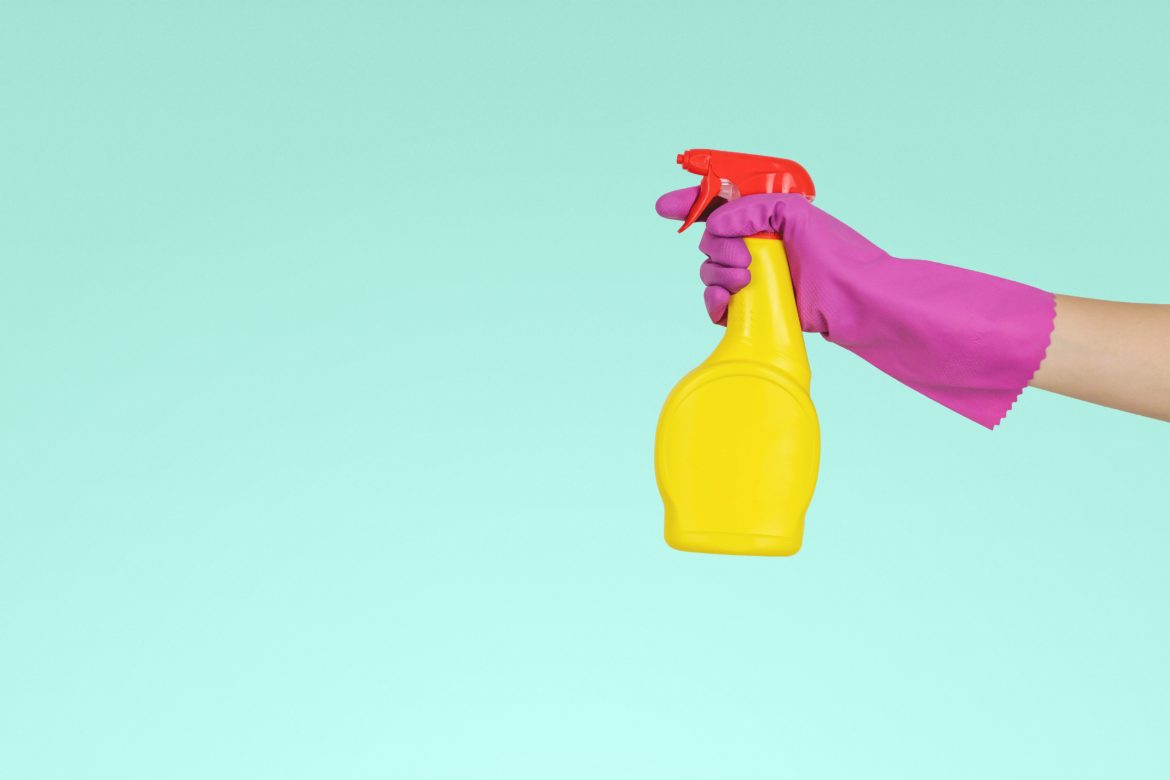 I have been an absolute neat freak since the day I was born.
Even as a young girl, I remember getting furious with my sisters when they sat on my meticulously made bed because they would leave their buttcheek imprints on my bedspread. My friends loved it when I spent the night at their houses because I would clean their rooms. (As you might imagine, I got invited to a lot of sleepovers!)
I'm not sure anyone would admit it, but I'm sure those closest to me worried that the inherent disorder that comes with having a child might make me lose my marbles. And, of course, there were lots of comments made about how motherhood would change my passion for tidiness. "Oh, that will all change when you have kids" or "You won't care about that once you have a baby".
Well, they were all wrong. I'm happy to report that that my marbles are still (mostly) intact…any my house is as immaculate as ever.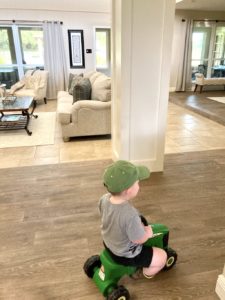 As a full-time working mom with a toddler, though, I've come to rely very heavily on a few cleaning tools and tricks to help keep our home spic and span.
Let's start with the essential cleaning tips and tools for busy moms (young and old!):
#1: Cordless Stick Vacuum
With two kids and two dogs, I literally vacuum every day of my life. Before I owned my Shark ION, that meant hauling out my heavy duty corded vacuum and working up a pretty decent sweat going from room to room – unplugging and plugging as I went. Then, a miracle happened. My truly adorable husband picked up on some not so subtle hints and purchased this amazing little powerhouse…and I was set free.
Don't be fooled – this battery powered stick vacuum is a mighty, agile cleaning machine. First, it folds in half, so it fits neatly in our kitchen broom closet – and it comes with two very powerful batteries, so I am always charged and ready to go. I'd put it up against a conventional vacuum ANY DAY.
The best part? I can nearly vacuum my entire house (3,700 sq. ft.) on ONE charged battery and in half the time because it's nimble and there's no time wasted plugging and unplugging. It quickly folds flat to vacuum easily under furniture and has a detachable bottom so you can use the pole attachment to get into every nook and cranny.
Yes, this vacuum is an investment, but it is my number one pick for essential tools. And, now is the perfect time to add it to your Christmas list!
#2: Refillable Microfiber Mop Kit
This is like a Swiffer mop…but better. The microfiber pads really scrub well and you just throw them in the washing machine when you're done (I keep several in rotation). And, no matter your preference for cleaning products, this mop adjusts because you add your own solution!
#3: Reusable Window Cloth
My toddler has a sixth sense for knowing when I've just cleaned our sliding glass door. We also have a TON of windows in our house. Luckily, this window cloth is an easy way to keep the fingerprints off our windows and doors without smudges or streaking (yay!). A quick run under the faucet and this cloth is ready to tackle any window or mirror. (Yes, it's like my Norwex cloth…they're both awesome. One is clearly less expensive, though!)
#4: Microfiber Hair Turbans
Wait. Suzy. This isn't a cleaning tool!
Hear me out on this one.
Part of being an old new mom who is a neat freak means being an expert MULTITASKER. I have 5 of these hair turbans…each day, I let one do its magic on my hair as I put on my makeup. Then, on my way to blow-dry my hair, I use it to clean. (I keep my hairdryer on the floor in our bedroom so I can blow-dry and stretch at the same time).
Dusty dresser? Hairspray film on your vanity? Husband's (or kid's) bathroom mirror? None is a match for a perfectly damp microfiber towel!
#4: Disposable Duster and Dusting Mitt
Part of keeping an immaculate home is doing a little bit every day. Each night, I clean for about 30 minutes – sometimes it's bathrooms, or sealing marble countertops…sometimes it's my least favorite chore – DUSTING. The good news is I rarely have to dust our bedroom (see above). Not one for sprays and polishes, these are my go-to tools. I like the Swiffer for blinds and bookshelves filled with pictures and nicknacks. The mitt is great for larger pieces of furniture and items that take a little more work to keep dust-free (e.g., glass vases).
#5: Cordless Mop
I love my microfiber mop for messes, but every mom needs a heavy duty mop for deep cleaning. This cordless wonder is great for moms who are pressed for time, have lots of wood/tile, or who (foolishly) think their floors are already clean. I use it once a week in my kitchen and high traffic areas. I am seriously amazed at the dirt that comes off of my seemingly clean floors! The bonus is that this also cleans area rugs, so the indoor/outdoor rug in our playroom gets a good, regular cleaning, as well!
Bonus Tips!
1. Get a dog.
I'm kind of kidding…but not really. I honestly don't know how anyone raises a toddler without a dog.
Our son loves to throw food…yes, still.
Yesterday, my husband joked that we'll feel bad about our frustration if he ends up being a pitcher in the major leagues one day. Until then, I'm grateful for our live-in clean up crew.
Clean Up Crew: Bevo (left) & Tallulah (right)
If you don't have a dog, get one. In fact, get two.
2. Embrace the mess…a little.
I know. I'm going soft.
But, seriously? I have the most perfect little chubby handprint on the mirror in our bedroom. It's been there for over a year…and I simply CANNOT bring myself to clean it off. (If someone ever does me a favor and cleans it for me, I will be crushed…I might have to put some clear vinyl over it!)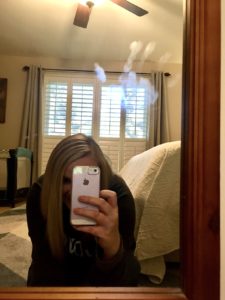 As worn out as I am from cleaning up messes and keeping our house neat, I know I will miss these little handprints one day.
Did You Like This Post?
Be sure to connect with Old New Mom on Facebook…you can also join our Old New Moms Facebook Group! Please note that many of my posts contain revenue generating affiliate links that help support the Old New Mom blog. Thank you for shopping via my links!
This is a personal website. This content is not intended to be a substitute for professional medical advice, diagnosis, or treatment. Always seek the advice of your physician or other qualified health provider with any questions you may have regarding a medical condition or treatment. The opinions expressed here represent my own and not those of my employer. All products or services reviewed are those that I use myself and I only recommend products that I stand behind. As an Amazon Associate, I earn from qualifying purchases. All written content and personal images are for use on this site only; unauthorized use is prohibited.